INTRODUCTION
BACKGROUND
In line with the ENISA's European Union Agency for Cybersecurity's sixth strategic objective,
"Foresight on Emerging and Future Cybersecurity Challenges2", the Agency seeks to improve
the EU's cybersecurity resilience, by increasing awareness of future threats and
countermeasures amongst its member states and stakeholders. Fulfilling this objective likewise
supports the other 6 strategic objectives as it provides input on future threats and challenges.
Figure 1: ENISA Strategic Objectives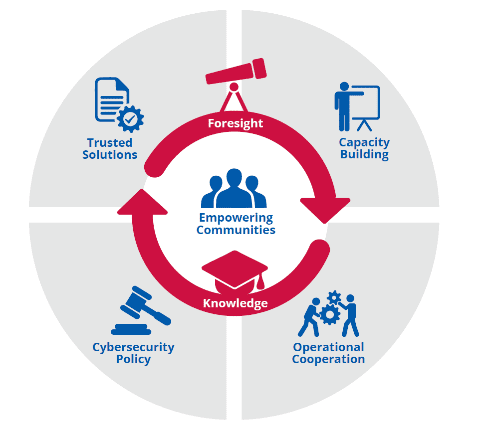 To achieve this goal, ENISA has applied its methodological framework grounded in foresight
research and future studies that was developed in 2021.3 The framework, created in collaboration with an interdisciplinary expert group that included futurists, sociologists, business leaders, cybersecurity experts, and others, will now be used in practice to identify threats and challenges likely to emerge by 20304
.
Drawing on the insights of previous ENISA projects and reports including "Looking into the Crystal Ball5" and "Foresight Challenges," the framework combines foresight methods with creative thinking approaches and co-creation/innovation methods; it leverages individual skills, knowledge, and reasoning in a collaborative setting. The overarching mission of this framework is to produce insight about the future and to enrich the dialogue between experts with various professions and backgrounds.

We believe that the key to defending the European Union is to prepare for the future; the future
is made by us all and therefore to imagine it we need the input of a diverse range of people.
Beyond identifying emerging futures, the agency will enable member states and other
stakeholders to improve their cybersecurity based on the findings of the foresight exercise.