Source: heimdalsecurity.com – Author: Gabriella Antal
In an era where cyber threats continue to evolve and grow in complexity, Heimdal has once again risen to the occasion and emerged as a leading force in the industry. Therefore, it is with great honor and gratitude that we announce Heimdal's Threat Prevention Endpoint has been awarded the prestigious 'Cloud Based Solution of the Year' at the Network Computing Awards 2023.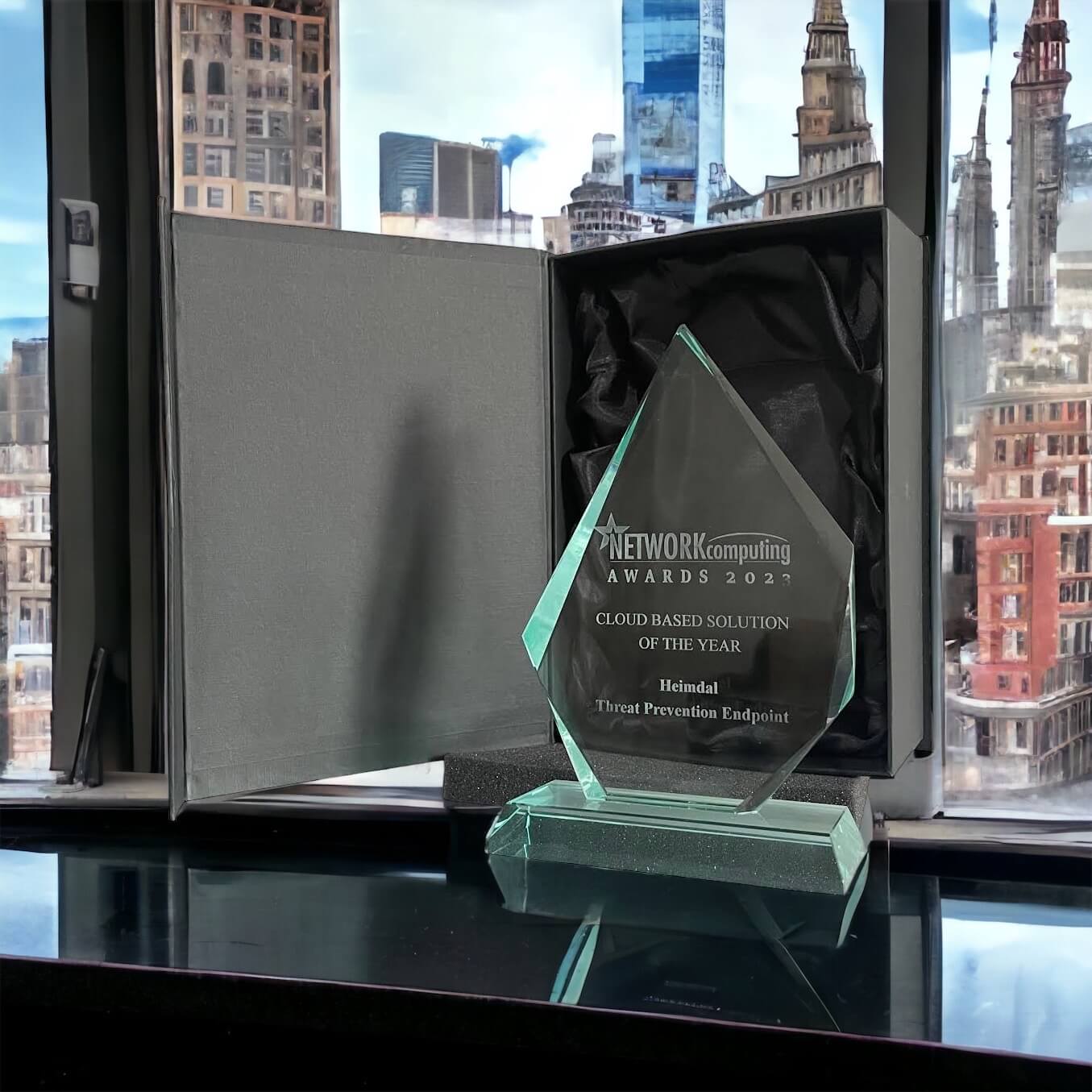 This recognition is a testament to the unwavering dedication and innovative spirit of the entire Heimdal team and the ongoing support and trust our valued customers and partners bestowed upon us.
On behalf of Heimdal, we extend our heartfelt gratitude to those who voted for us at the Network Computing Awards for recognizing our efforts to ensure a safe and secure digital landscape. 
This accolade reaffirms our commitment to delivering cutting-edge solutions that protect businesses and individuals from the ever-expanding cyber threat landscape. We are truly honored to receive this prestigious award, and it serves as a reminder that our relentless pursuit of excellence and innovation is recognized and appreciated.
Threat Prevention Endpoint: A Trailblazing Solution
At the heart of our award-winning offering is our Threat Prevention Endpoint solution, which has set new benchmarks in DNS security. This advanced solution combines cybercrime intelligence, machine learning, and AI-based prevention to proactively identify and neutralize threats, effectively safeguarding businesses from cyber attacks.
DNS is a critical component of the Internet infrastructure, serving as the backbone for all online communications. It translates human-readable domain names into IP addresses, enabling users to access websites and other online resources. However, cybercriminals exploit vulnerabilities in the DNS to launch various attacks, including phishing, malware infections, and data leakage.
Threat Prevention Endpoint takes a comprehensive and proactive approach to DNS security, empowering organizations to defend against these threats effectively. Leveraging cybercrime intelligence, our solution continuously monitors global threat landscapes, analyzing and correlating data to identify emerging patterns and indicators of compromise. By leveraging this intelligence, Heimdal ensures that our clients are always a step ahead of cybercriminals.
Furthermore, our solution employs machine learning algorithms and AI-based prevention techniques to detect and block malicious activities in real time. This proactive approach enables Threat Prevention Endpoint to prevent known and unknown threats from infiltrating an organization's network, significantly reducing the risk of data breaches and system compromise.
Looking Ahead: The 'Cloud Based Solution of the Year' award is a testament to Heimdal's continuous pursuit of excellence and our unrelenting dedication to staying at the forefront of the cybersecurity landscape. We are deeply honored to be recognized for our efforts. We will continue to push the boundaries of innovation to protect our customers and create a safer digital environment for all.
As we celebrate this momentous achievement, Heimdal remains committed to delivering best-in-class cybersecurity solutions that anticipate and neutralize future threats. Together, we will forge ahead, united in our quest to build a resilient and secure digital world.
In conclusion, we sincerely thank the Network Computing Awards for recognizing our groundbreaking Threat Prevention Endpoint solution as the 'Cloud Based Solution of the Year.' 
This prestigious honor not only underscores our commitment to excellence but also reaffirms our position as a leader in the cybersecurity industry. With Threat Prevention Endpoint as our flagship solution, Heimdal will continue to innovate, adapt, and drive the future of cybersecurity.
Antivirus is no longer enough to keep an organization's systems secure.
Heimdal® Threat Prevention
– Endpoint
Is our next gen proactive DNS-Layer security that stops unknown
threats before they reach your system.
Machine learning powered scans for all incoming online traffic;
Stops data breaches before sensitive info can be exposed to the outside;
Advanced DNS, HTTP and HTTPS filtering for all your endpoints;
Protection against data leakage, APTs, ransomware and exploits;
As we continue our mission to create a safe digital landscape, we invite you to connect with us on social media. Follow us on YouTube, Facebook, Twitter and LinkedIn, where we post rigorously about the latest cybersecurity trends, best practices, and product updates. Stay updated with our channels, as many more exciting things will come, including innovative solutions, expert insights, and educational content.
Together, let's build a secure digital future.
If you liked this post, you will enjoy our newsletter.
Get cybersecurity updates you'll actually want to read directly in your inbox.
Original Post URL: https://heimdalsecurity.com/blog/heimdal-threat-prevention-endpoint-wins-cloud-based-solution-of-the-year-at-the-network-computing-awards-2023/
Category & Tags: All things Heimdal – All things Heimdal