Source: news.sophos.com – Author: Sally Adam


PRODUCTS & SERVICES
With Sophos XDR (Extended Detection and Response), Sophos Endpoint customers can extend their defenses against sophisticated human-led attacks. It gives you the tools to detect and respond to suspicious activity on your Sophos-protected endpoints and your wider environment before active adversaries can impact your systems.
Leveraging data from both Sophos and third-party (non-Sophos) technologies, including endpoint, firewall, identity, network security, productivity, email protection, and cloud, Sophos XDR provides visibility across all key attack surfaces – and the information and tools you need to investigate and neutralize threats.
Plus, our recent enhancements to Sophos XDR give you even more reasons to upgrade from Sophos Endpoint than ever before.
Enabling Detection, Investigation and Response
---
Detect suspicious activity: AI-powered detections provide instant visibility of suspicious activity across your endpoints and other key attack surfaces, and our new simple SQL-less search lets you hunt threats at speed.
---
Investigate: Automatically created cases and prioritized detections make it easy to focus on what's important, while our new UX gives you the information and tools you need to carry out investigations easily.
---
Respond: New and improved case management tools and response actions empower you to collaborate with team members and quickly neutralize attacks.


---
Fully-powered Endpoint Detection and Response (EDR)
Sophos XDR includes powerful Endpoint Detection and Response (EDR) capabilities for security analysis and IT administrators.
It gives you tools to ask detailed questions to investigate threats and strengthen your IT security posture, with access to powerful out-of-the-box queries and a simple search tool (with free-text and prompted-Lucene options) with up to 90 days of user and application activity data, both in the cloud and on-disk.
Sophos XDR also enables you to access endpoints and servers remotely to investigate and remediate issues. Using a secure Live Response command line tool in your Sophos Central console, you can reboot devices, install and uninstall software, terminate active processes, run scripts or programs, edit configuration files, and more.
Extend visibility beyond the endpoint
The more you see, the faster you can act. Sophos XDR enables you to build on your endpoint telemetry by increasing visibility and insights into evasive threats across all key attack surfaces. Once you've upgraded from Sophos Endpoint to Sophos XDR, simply connect additional solutions and technologies that integrate seamlessly with the XDR platform.
Expansive portfolio of Sophos solutions. Sophos technologies work together to deliver the best possible security outcomes. Our native XDR-ready solutions include Sophos Endpoint, Sophos Workload Protection, Sophos Mobile, Sophos Email, Sophos Cloud, Sophos Firewall, and Sophos ZTNA. Plus, with Sophos XDR, you can now add Sophos NDR (Network Detection and Response) to your defenses, enabling you to detect rogue and unmanaged devices in your environment.
Additional third-party integrations. Sophos XDR now integrates with an extensive range of third-party (non-Sophos) security tools, enabling you to get more ROI from your existing technology investments while benefiting from greater visibility of threats across all key attack surfaces in a single unified console.
The expanded technology partner ecosystem integrations include identity, network, firewall, email, cloud, productivity, and endpoint security solutions, and, what's more, integrations with third-party endpoint products and Microsoft solutions are included with Sophos XDR subscriptions at no additional cost.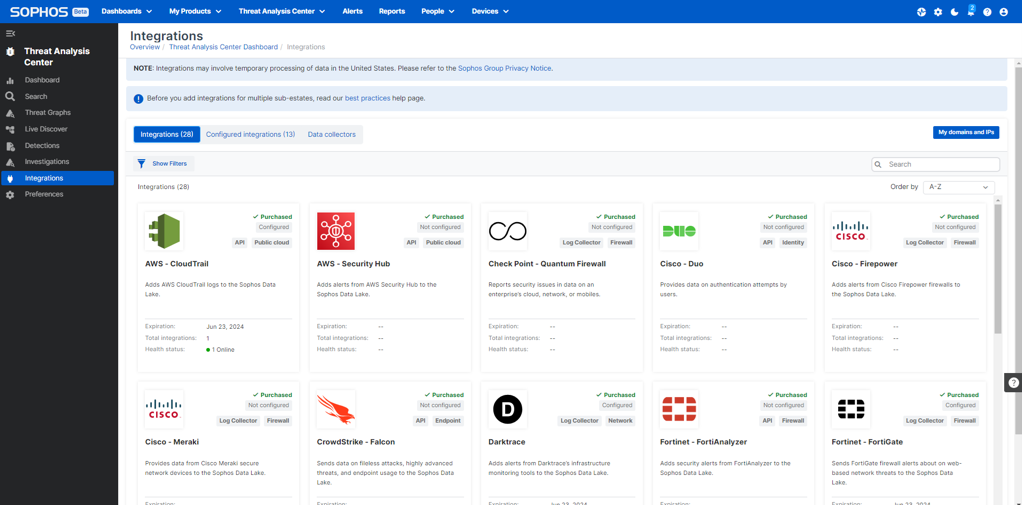 Simple upgrade from Sophos Endpoint – no new agents!
Once you've upgraded your Sophos Endpoint (Intercept X) subscription to Sophos XDR, upgrading your endpoints couldn't be simpler. Using your Sophos Central management console, assign the XDR software to your devices and turn on data-lake uploading. No additional agents to install!
Recognized by industry experts and customers
With over 40,000 XDR customers globally, Sophos has established itself as a leader in extended detection and response. And we have the industry recognition to back it up.
Sophos is one of only ten vendors recognized in the 2023 Gartner Market Guide for XDR, was named a Leader in the G2 Grid for XDR, earned the position as the sole leader in Omdia's vendor comparison for Comprehensive XDR, and delivered exceptional results in the 2023 MITRE Engenuity ATT&CK Evaluations (Round 5: Turla).
Elevate your defenses against active adversaries
To learn more about how upgrading to the all-new Sophos XDR can help your organization better defend against active adversaries, speak with a Sophos adviser or your Sophos partner today. You can also take it for a test drive in your own environment by starting a no-obligation 30-day free trial directly from your Sophos Central console.
Original Post URL: https://news.sophos.com/en-us/2023/11/20/sophos-xdr-extending-sophos-endpoint-protection-with-threat-detection-and-response/
Category & Tags: Products & Services,Endpoint,Extended Detection and Response,Intercept X,Sophos Endpoint,XDR – Products & Services,Endpoint,Extended Detection and Response,Intercept X,Sophos Endpoint,XDR